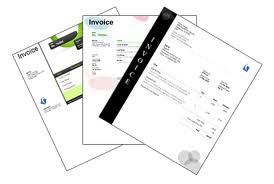 Technological developments help business owners to simplify everyday routine. I am talking about invoicing software. My first experience with invoicing program was positive. I must admit that I would never get my invoices look professional without this software. Invoicing software provide perfect invoice templates.
My software provides different invoice templates. I can choose between color and black and white templates. I always preferred black and white invoice templates, because I wanted to save money on printing. But now I send invoices to my customers by email. Finally I can send nice professionally looking color invoice with my logotype on it.
Maybe for other people the look of invoice does not mean much. More important in invoicing is to reach customer and to get payment. But anyway when I send well-looking invoices I feel more confident. I am sure that there is connection between the look of your invoice and payment amount you will receive. I am not psychologist and can not explain that kind of connection, but it is somewhere in people subconscious mind.
Let's return to the invoice templates. My invoicing software is also planning to invent function for creating your own invoice templates. To my mind this function is useful for advanced users, who want to get some specific look of the invoice. For me it is not topical issue, but I guess that some enterprises that send invoices by postal mail need specific layout of the invoice. Usually they have envelopes with transparent window and customer address should match that window.
Talking about different features of the invoicing software, I concluded that I need just basic features. Of course there should be software that provides whatever you can even imagine. But when you start electronic invoicing, you better buy some simple program. When the program is too complicated you spend much time to sort thing out. During that time you get tired and some dislikes about the program appear.
Now I can tell for sure that I would choose invoicing software which is online based, which provides nice invoice templates, allows me to add received payments and sends out reminders to non-payers.
---
Andra inlägg